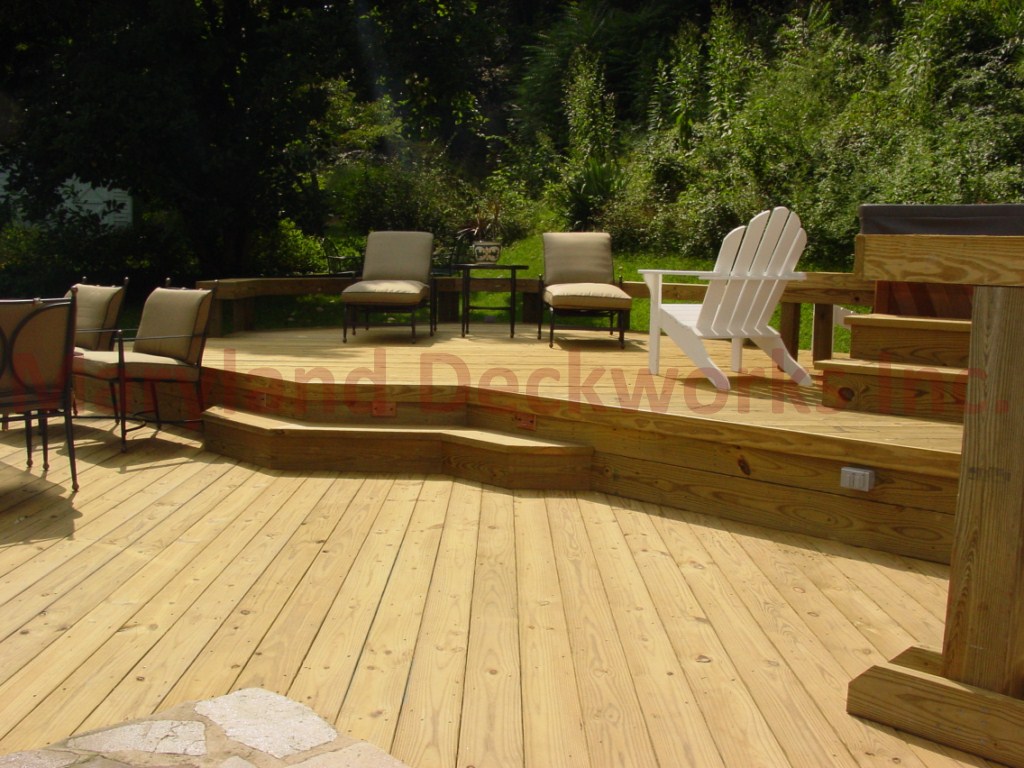 Clarksville Decks (Division of Maryland Deckworks Inc.) prides itself on the specific needs, use, and functionality you want to incorporate in your deck project.
From size to shape, all aspects of design are considered, such as:
What will be the general every day use of the deck for you and your family? Do you plan on entertaining with parties, cookouts, or barbecues? What is the maximum number of people you'd like your deck to support? Perhaps in the future you will want to add on to your deck with a screened porch, sunroom or hot tub? If steps are wanted what's the best placement for them? As far as materials do you want to use a maintenance free product or traditional wood?
Details to project  planning include:
-Smooth transcending traffic patterns for entry and exit of your deck giving you the most usable space for placement of tables, chairs, grills, plants, etc.
-Structural issues pertaining to weight loads and capacity are addressed if planning on adding or expanding to your project in the future.
-The latest in composite/maintenance free products as well as traditional wood offer you a large spectrum of materials to choose from for your deck.
-Providing the client an on-site walk through of previous built projects to see firsthand the craftsmanship and pride Md. Deckworks Inc. puts into each job.
-Supplying the customer with an array of decking and railing samples which are all available to be seen in an environment where Md. Decworks Inc. has installed a specific product you are considering.
Clarksville Decks (Division of Maryland Deckworks Inc.) can assure you satisfaction from project beginning to job completion. Whether you need full scale architectural drawings, have existing plans or just need some help with ideas the expertise and knowledge we have acquired from being in business since 1988 will give you a deck you will be able to enjoy for many years to come.
You can also visit our main websites Maryland Deckworks Inc. for more information, Testimonials, Galleries, Products and Services.
Clarksville Decks
Division of Maryland Deckworks Inc.
410-796-7033